Who is Flash Furnace?
After working for over 10 years in Calgary for other furnace companies, tune-up calls were rushed, pressure sales were mandatory, and we felt that as a paying customer you should get it done right for your money. Pushing for more sales and a quick in and out policy, often the technicians had to return to fix jobs poorly done. No one has time to sit around for multiple service calls. We want to fix your furnace right the FIRST TIME.

We then decided to take the leap and open a company that would focus on doing it right for our customers. We are a family based business (with an amazing team of skilled technicians) who sees that our customers are more than just a number. Our honesty and work ethic is what makes us standout, exceed and continue to grow. We have registered Gas Fitters as our technicians; you can be assured that the technician has been through school, has experience in the industry and has worked with all furnace types and proper gas codes. We always put your family safety FIRST. Rest assured that your Flash technician has the credentials and the experience to fix the problem.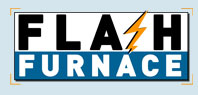 Flash Furnace takes pride in top quality customer service. We stand by our work and we want to be #1 in customer service. In the rare case where a repair needs to be re-assesed, we do not charge any additional fees - we fix it right!